April 5, 2021
Anicom Pet Insurance declares the eradication of now preventable genetic disease.
-Eradication and management of specific genetic diseases of popular dog breeds such as the Toy Poodle and Corgi has become possible-
Anicom Holdings, Inc. (Representative Director, Komori Nobuaki, "Anicom"), is the parent company of Anicom Insurance which has the largest share of the pet insurance market in Japan*1. Anicom as a group of companies has been working to eradicate genetic diseases of pets since 2017. We have been providing genetic screening and proposing appropriate breeding and sales practices based on those results to our business partners; primarily breeders and pet shops. As a result of these efforts, we are pleased to announce that we can now say with confidence that we have realized "the eradication of*2" and/or "can now manage*3" genetic diseases in pets.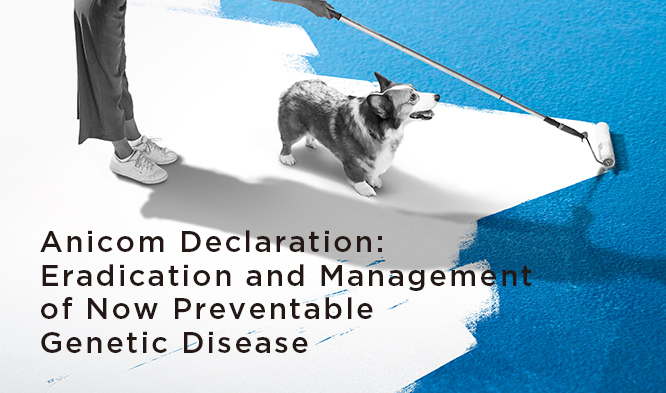 * 1 Estimated by the numbers of policies in force which each company reported for 2020. Fuji Keizai CO.,Ltd.: Overview of Pet-related Sector Marketing in 2021
* 2 "Eradication" in this release means that the breeders and/or pet shops using the genetic screening provided by the Anicom Group have not transferred to pet owners dogs and cats, which carry risk genes of disease that can be confirmed by the genetic screening. This has been done for more than 3 months in a row.
* 3 "Management" in this release means that the dogs and cats carrying risk genes of genetic disease that can be confirmed by the genetic screening have been born, but the disease is not fatal. The breeders and/or pet shops who are using the genetic screening provided by the Anicom Group explain the risks to the owner in advance. The owner understands the risks before receiving the animal. This has been done for three months in a row.
■ "Pets" have many genetic diseases
Pet breeds, especially dog and cat breeds, have been created by human intervention. Repeated breeding in order to further emphasize specific characteristics has resulted in pet animals (especially dogs and cats) being much more closely related to each other than is the case with animals which have not been bred in this way. As disease causing genes are passed on via breeding done by people, Anicom believes that reducing genetic diseases is the responsibility of people.
■ There are two types of genetic diseases: ones to be eradicated and ones to be managed.
Genetic diseases include "fatal diseases" and "diseases which are not fatal but which lead to a lower quality of life." Anicom defines the fatal diseases as genetic diseases that should be "eradicated", and the non-fatal ones as genetic diseases that should be "managed". We have been working with our business partners to do this very thing. We make a distinction between genetic diseases to be "eradicated" and ones to be "managed" because focusing only on eradication of all genetic diseases would require making mating decisions which would reduce the size of the breeding gene pool and reduce genetic diversity, therefore increasing the risk of inbreeding.
■ Eradication and management of genetic diseases of specific breeds such as the Corgi, Shepherd, Shiba Inu, Toy Poodle, etc.
① Toward "eradication" of "fatal disease"

Fatal genetic diseases include "Degenerative Myelopathy (DM)", which is common in Welsh Pembroke Corgi and German Shepherd dogs, and "GM1 Gangliosidosis", which is common in the Shiba Inu. Both are neurological and ultimately fatal diseases. Among breeders and pet shops who use genetic screening for these breeds and diseases provided by Anicom Group, we confirmed the result of meassures for the eradication.

For example, in the case of Corgi and DM, the rate of animals affected*5 is decreasing as a whole, as shown in Fig*4. Also, breeders and pet shops have not transferred puppies carrying the risk genes to owners for 3 months or longer. By continuing the current inspection system, we have determined that the above 3 breeds with the corresponding disease risk genes will never be transferred to pet owners, that is, we can "eradicate" the disease.

*Started testing in April, 2019

Dogs who are/were actually fighting with DM

▲This is "Mewmo". She's a 13 year old Corgi. We see her using a wheelchair with some difficulty. DM has caused paralysis in her back legs. "I want to eradicate the painful disease, and I believe it is possible." (owner A)

▲This is a German Shepherd called "The Second Mikoshi no Matsu". He was 11 when he died. "Matsu had it the hardest. I really want to eradicate DM. I don't want any other dog to suffer in the same way." (owner B)

② Toward "management" of "diseases which are not fatal but that lead to lower QOL"

"Progressive Retinal Atrophy (PRA)" is one of the most common genetic diseases in Toy Poodles, which is the most popular dog breed in Japan. It is a painful illness for both pets and owners as it causes declining eyesight, leading eventually to blindness. However, dogs cope with the loss of sight better than humans do and it is therefore possible to give dogs affected by the disease a reasonably good quality of life by adjusting their living environment appropriately. As we expand the genetic screening for PRA, we have confirmed that the rate of animals affected with the PRA causing gene*5 has been reduced as much as possible. This has been done while simultaneously maintaining genetic diversity in the breeding pool. Additonally, we have worked with breeders and pet shops to ensure that pet owners get sufficient explanation about the risk related to affected dogs before purchase. By continuing the current inspection system, we have determined that the pet industry can properly "manage" recurring PRA in Toy Poodles meant for pet owners in the future.
* 4 All graphs shown are based on the data derived from breeders and pet shops that conduct genetic screening by the Anicom Group.
* 5 Affected is one of the three possible results of genetic screening. "Clear" means no abnormal genetic condition. "Carrier" means the dog has one copy of the abnormal gene and can develop the disease. "Affected" means high risk of disease.
■ The true mission of an insurance company is "prevention"
No owner is happy that a precious pet is injured or sick. We therefore believe that the true role of Anicom, as an insurance company group, is to utilize data to prevent injuries and diseases. A large amount of data on such injuries and diseases is collected by insurance companies through insurance claims. For example, we can see that certain dog breeds tend to get certain kinds of diseases at certain ages, and we can give appropriate recommendations to mitigate that tendency to disease.. This is "prevention". We are working on the eradication and management of genetic diseases for this purpose. Sadly, the reality is that there are still many genetic diseases, and that some pets are suffering. As we look to the future, Anicom will continue to cooperate with the entire pet industry to contribute to improving the QOL of pets and their owners by the "eradication" and "management" of genetic diseases.
【Inquiries】
PR team, Anicom Holdings, Inc.
〒160-0023 Sumitomo Fudosan Shinjuku Grand Tower 39F, 8-17-1 Nishi-Shinjuku, Shinjuku-ku, Tokyo
MAIL:pr@ani-com.com